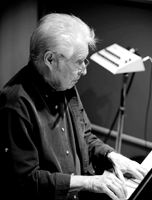 Dave Grusin is one of the country's foremost composers, arrangers,producers and pianists. He is an eleven time Academy Award Nominee and the recipient of an Oscar for Heaven Can Wait in addition to 12 Grammys. Just a few of Dave's nominated film credits include his scores for Mike Nichols' Oscar-winning film, The Graduate; On Golden Pond and Tootsie, a film that yielded the hit song "It Might be You," which featured one of Howard Roberts' most illustrative students, Mitch Holder. From 2000 through 2011, Grusin concentrated on composing classical and jazz compositions, touring, and recording with several collaborators including another of H.R.'s devotees, guitarist Lee Ritenour. Dave Grusin's numerous studio sessions and collaborations with Howard Roberts included his contributions to H.R.'s albums Guilty, Jaunty Jolly and Equinox Express Elevator.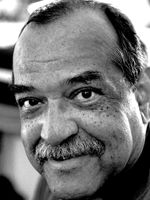 Ernie Watts is a two-time Grammy Award winner and one of the most prolific saxophone players in the business. Since turning pro at age sixteen he's been featured on more than 500 recordings contributing his exceptional talent to everyone from Cannonball Adderley to Frank Zappa. And as a member of the Tonight Show Band he was one of the most fre- quently heard instrumentalists in the world. Ernie worked with H.R. every week at Donte's for many months in the 70's and recalls, "Howard had such energy and my playing is all about energy. And he was so flexible; he played all kinds of styles and techniques within what he was doing. He'd be playing something and change a feel or a groove and it was so very fluid and free. And Howard's music was always enlightening, melodic, open and such fun to play. There was joy in his tunes."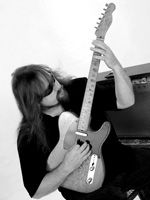 Jay Roberts has been a dedicated educator and performer since his early teen age years. He was raised in a musical family environment with parents who were both noted professionals. Jay availed himself of the opportunity to learn and grow as a player excelling on both guitar and drums. Today, his stylistic interests are widely varied. He's adept at rock, blues, country, Latin jazz and bebop. As the founder of Roberts Music Institute, Jay has personally influenced over 50,000 students. With a highly developed background in improvising and accelerated learning techniques acquired from years of study with his father, Howard, Jay enjoys sharing the tools of the trade with his students. By producing the Howard Roberts Project, Jay thoroughly explored the history and legacy of his father, an achievement that evoked the very fond memories of hanging out with H.R. and playing guitar every night with his best friend and mentor.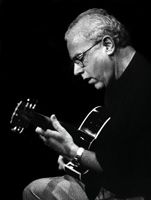 Mitch Holder enjoys a place in the guitar-great pantheon that comprises such artists as Barney Kessel, Herb Ellis, George Van Eps, and yes, his mentor, Howard Roberts.
Mitch is one of the most respected and revered players in the music business. His endless list of film credits includes Urban Cowboy, City Slickers, Stripes, Grease, Tootsie, and many more. His TV credits include Designing Women, Dynasty, Fame, CHIPS, Moonlighting and too many more to list. He's recorded with hundreds of artists including Frank Sinatra, Tom Jones, Lee Ritenour, Dave Grusin, Barbra Streisand, Barry Manilow and Nancy Wilson. Mitch's work with the Tonight Show Band for 12 years led to his regular appearances today with Chris Walden, Robert Davi and Billy Vera. And listen for Mitch's solo guitar for the opening scene in Clint Eastwood's film Space Cowboys.
Mitch says, "There's nothing you couldn't ask Howard. If you thought it was going to be a stupid question, he'd say, 'There are no stupid questions.' He was open about any subject relating to the guitar, and not just jazz; he respected anyone who played a given style and did it well."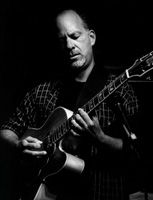 Synthesizers and digital technology brought an end to the Golden Era of recording sessions for even our most talented guitarists, most of whom endured relentless schedules of daily studio work. But not for Tim May, who regularly lends his amazing chops to several TV productions including The Simpsons, The Family Guy, King of the Hill and any number of record dates for today's hottest artists. That's Tim who played "Johnny B. Goode" for Michael J. Fox in Back to the Future. Moreover, Tim is a four-time NARAS MVP award winner, an honor that can be bestowed only by one's professional peers.
Tim says, "When Howard was declining, I'd call to ask how he was doing. He'd say, 'Tim, I'm dying and there's nothing anyone can do about that. But how about you, are you getting a chance to really play?' That was Howard in a nutshell, totally unselfish."